RUMC Foundation
Our Mission Statement
The Medical Center is a not-for-profit health care provider serving the ethnically diverse community of Staten Island and its neighbors. We provide premier quality patient care through a full spectrum of emergent, acute, primary, behavioral health and educational services. We do this in an environment that promotes the highest satisfaction among patients, families, physicians and staff.
Foundation Mission
Richmond University Medical Center Foundation's mission is simple: To advocate and financially support Richmond University Medical Center.
If you would like to make a gift, checks should be made payable to: Richmond University Medical Center Foundation, 355 Bard Avenue, Staten Island, NY 10310. For more information call (718)-818-2103.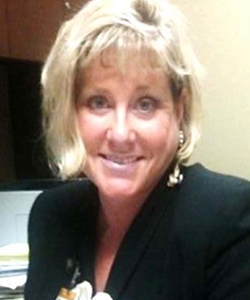 Laura Gajda
Vice President of Development
I am proud to lead the development effort at Richmond University Medical Center. Although operating under the current name since 2007, this hospital has a history of providing quality health care to Staten Island since 1903, when the Sisters of Charity opened St. Vincent's Hospital in the historic Garner Mansion, which is still a part of the campus. Over the years the hospital grew and became the mainstay of Staten Islander's healthcare. Generations of Staten Islanders have been born in and had health needs cared for in this facility.
The hospital became part of the St. Vincent's Catholic Medical Centers in 2000. In 2005 the St. Vincent Catholic Medical Centers filed for bankruptcy, and eventually the Staten Island St. Vincent became a free-standing non for profit hospital it is today, Richmond University Medical Center.
An important part of the foundation's purpose is to provide funds to upgrade the hospital infrastructure. A huge success of the foundation is the nearly completed $13 million capital campaign for a new emergency department. City and state grants also have provided $44 million in funds for the ED. Construction is underway and, and there are still some naming opportunities and other ways to participate in financially supporting the project.
After the emergency department is completed, a new surgical area will be constructed in the addition's second-floor shell space. Other future projects include new critical care and maternal child areas.
In recent months, the crucial nature of local healthcare became more important than ever during the COVID pandemic. We are proud of our service to the community, and are grateful that our community has rallied with us to provide quality health by donating money, personal protective gear, meals and other items to help fortify our staff's morale.
I invite you to join us in improving your community hospital!
Laura Gajda, MBA, CFRE, FAHP
Vice President of Development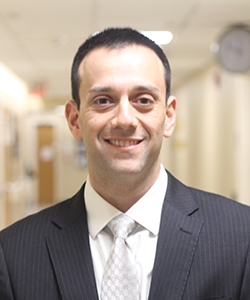 Robert Urs
RUMC Foundation President
Robert Urs was born in Staten Island, New York at St. Vincent's Hospital now called Richmond University Medical Center (RUMC). He is a second-generation family member to serve the hospital. Robert is a Licensed Real Estate Associate Broker practicing at Robert DeFalco Realty. He has achieved designations in Graduate REALTOR Institute (GRI) and Seniors Real Estate Specialist (SRES). He is a member of the National Association of REALTORS and the Staten Island Board of REALTORS.
Robert has a passion for investing in companies listed on the New York Stock Exchange. Also a golfer at the Richmond County Country Club he participates on several committees at the club. Robert is a lifelong Staten Island resident living on the North Shore in the Silver Lake area. Married to his wife Jennifer, they have two daughters Kali who is a student at Staten Island Academy, and Ashley born in 2018. Both children were born at Richmond University Medical Center.
Communications
Foundation Newsletter Winter 2021/22
Foundation Newsletter Summer 2021
Foundation Newsletter Fall 2020
Foundation Newsletter July 2020
Contact Information
Thank you for your interest in the Richmond University Medical Center Foundation.
Our mailing address is:
Richmond University Medical Center Foundation
355 Bard Ave.
6th Floor
Staten Island, New York 10310
Our offices are open Monday-Friday, 8:00 a.m.-4:00 p.m. If you have any questions about making a gift, please call (718)-818-2103.