Breast Cancer Treatment in Staten Island, NY
Richmond University Medical Center's Breast and Women's Center located at 1161 Victory Boulevard in Staten Island, New York, provides state-of-the-art medical care. The experienced medical staff offers examinations and imaging, including mammograms. Physicians also provide diagnoses of breast conditions and a variety of breast cancer treatments, including surgery, chemotherapy, and radiation therapy.
The services of this oncology program have been nationally recognized by American College of Surgeons Commission on Cancer for over 80 consecutive years and have received commendations for the high standards of clinical services.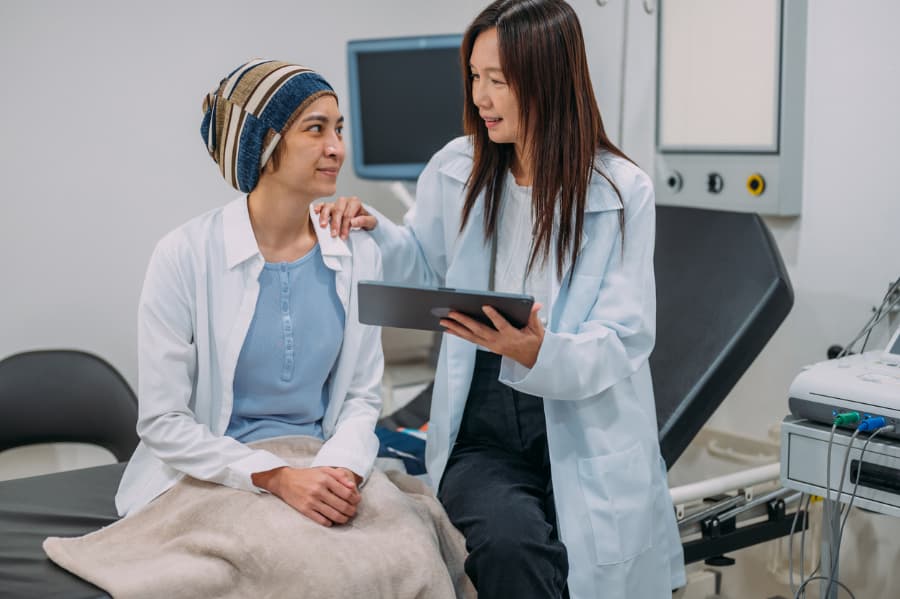 Diagnosing Breast Cancer
At Breast and Women's Center, appointments begin with a physical examination and discussion of family medical history. Genetic tests may be recommended to explore any risks for breast cancer due to hereditary factors. Routine mammograms are recommended for most women by age 40 to monitor breast health and detect any cancers. This is important, as early detection often provides more breast cancer treatment options. Guidance on preparing for your mammogram is also available.
Breast Imaging
Services at the Breast Imaging Center include:
3D Screening Mammograhy
3D Diagnostic Mammography
Breast Ultrasound
Breast Magnetic Resonance Imaging (MRI)
Bone Density (DEXA) Scanning
Breast Biopsy
If imaging results raise concerns about the presence of cancer cells, physicians can take a small tissue sample for laboratory analysis. This procedure is called a biopsy. The medical team will determine the best technique to obtain the biopsy. Choices include:
Stereotactic Breast Biopsy
Ultrasound Guided Breast Biopsy
MRI Biopsy
Men are also at risk for breast cancer, so in addition to regular physical exams and screening tests, everybody should monitor changes to their breasts, and schedule an appointment with a qualified physician if there are any concerns. Both MRI mammograms and MRI biopsy procedures are located off-site.
Breast Cancer Treatments
If a breast cancer diagnosis is determined, Richmond University Medical Center utilizes a multidisciplinary approach. Physicians and medical professionals from surgery, radiology, and oncology, along with breast and women's health specialists, collaborate to develop an individualized breast cancer treatment plan for each patient.
During the breast cancer consultation, the diagnosis and treatment options are presented to the patient. Physicians are available to answer questions and help patients choose the best option for their condition and situation.
Surgery Options
Several surgical options may be recommended, depending on the type and extent of cancer. In some cases, plastic surgery may be completed alongside the removal of tumors and cancer cells for optimal cosmetic results. Surgical procedures for breast cancer include:
Lumpectomy: Removes tumors and surrounding tissue
Nipple-sparing mastectomy: Preserves nipple and areola
Immediate reconstruction for mastectomy: Breast implant and removal of breast tissue
Oncoplastic lumpectomy and mastectomy: Plastic surgery alongside tissue removal
Radiation Therapy
Utilizing high-energy radiation to kill cancer cells may be recommended either before or after surgery. In some cases, radiation therapy may be used in conjunction with chemotherapy or on its own to treat breast cancer. Richmond University Medical Center offers the following radiation therapy breast cancer treatments:
Linear Accelerator (LINAC) Therapy: High-energy x-rays are directed at tumors and cancer cells
High Dose Rate (HDR) Brachytherapy: Radioactive implants deliver treatment to tumors and areas of cancer
Image-Guided Radiotherapy (IGRT): Imaging technique assists in guiding radiation treatments
Stereotactic Radiosurgery: Helps position patients for precise treatments
Stereotactic Body Radiotherapy: Delivers high doses of radiation from different directions toward the tumor and cancer cells
Chemotherapy and Immunotherapy
Powerful medications and activation of the patient's existing immune system are tools used in breast cancer treatments, including:
Chemotherapy helps prevent cancer cells from growing and spreading
Immunotherapy helps the body recognize and resist cancer cells and can inhibit tumor growth
Targeted therapy introduces cancer-fighting drugs to the site of cancer cells, and can help block the growth
Breast Cancer Research
Many new treatments are developing for breast cancer treatment. This is due to ongoing medical research. The physicians and medical practitioners at Richmond University Medical Center are always evaluating new developments to determine which are promising breast cancer treatments for patients. They provide the latest medical technology and equipment so that patients receive the best care possible for their condition. This multidisciplinary approach brings together current research, proven practices, and years of experience in diagnosing and treating breast cancer.
Counseling and Family Support
In keeping with the mission of Richmond University Medical Center, patients and their loved ones are treated like family. Physicians strive to always share their compassion, deep concern, and care for each patient. Counseling and family support services provide help with the stress and burden of a cancer diagnosis and course of treatment. These services include:
Home care
Pastoral care
Referrals to hospice or other community agencies
A Dedicated Nurse Navigator
The Breast and Women's Center has dedicated registered nurse navigators to help support patients and their loved ones during breast cancer treatment. Nurse navigator services begin on the first day of diagnosis and extend to survivorship and beyond. As the point person for coordination of care and communication throughout the multidisciplinary medical team, this role is vital to breast cancer treatment services. Patients, families, and loved ones are offered the following:
Connecting patients and loved ones to hospital, community, and social support services
Collaborating with multidisciplinary team members involved with breast cancer treatment
Identifying any barriers to care and helping patients and staff overcome them
Personal follow-ups, check-ins, and encouragement for patients and loved ones throughout their care at Richmond University Medical Center
Additional support and resources for patients, families, and loved ones for needs before, during, and after treatment.
Get the Treatment You Deserve
Richmond University Medical Center is dedicated to providing breast health care for all members of the community. Patients access breast cancer prevention services that screen and educate them about their risk factors for this disease. By empowering patients to recognize the signs of breast cancer, they are better able to catch it early and provide more treatment options.
When patients find a lump in the breast or notice any other changes to the appearance of their breasts, they are encouraged to make an appointment at the Breast and Women's Center. Patients and their loved ones can meet the doctors who provide this essential medical care and are dedicated to the health of the community.
Discover the Breast and Women's Center at Richmond University Medical Center
The Breast and Women's Center is a wellness center that provides comprehensive clinical breast imaging and evaluations. The staff specializes in breast cancer, breast pain, and benign breast disease. Fully equipped with state-of-the-art equipment, they provide stereotactic biopsy, digital 3D mammography, bone density Dexa scans, and fine needle aspiration. Minor surgeries and surgical consultations with the team of oncologists and surgeons take place in the surgical suite.
These services are located at 1161 Victory Boulevard, Staten Island, New York, 10301. The Breast and Women's Center can be found in Suite B. Patients can meet with professionally trained breast specialists about any concerns they may have about breast health or their symptoms.
Make an Appointment at Richmond University Medical Center
Patients with concerns about breast health or other health challenges can discover the experienced physicians and well-equipped services available at Richmond University Medical Center's Breast and Women's Center on Staten Island, NY. Patients feel empowered to improve their health with the help of the medical staff at Richmond University Medical Center. Contact the center today to schedule an appointment, or call 718-818-1161.