Stroke Center Serving Staten Island, NY
As the designated stroke center by the New York State Department of Health, our staff is trained to provide comprehensive care to stroke patients. For three consecutive years, we were honored to receive the Get with the Guidelines-Stroke Gold Plus Quality Achievement Award from the American Heart Association/American Stroke Association. We are also the recipient of the Joint Commission's Gold Seal of Approval for quality and patient safety; our hospital prides itself on having a professional team of dedicated staff.
What is a stroke?
A stroke happens when the blood flow is cut off to an area of the brain. This causes brain cells to die because of oxygen deprivation. As brain cells die, a person can lose certain functions such as memory or muscle control, depending on which area of the brain is affected. Strokes differ in severity depending on where they occur and the extent of the damage they cause. Individuals with small strokes may suffer only temporary issues or minor problems whereas those who have suffered a large stroke may experience serious permanent disabilities.
Warning Signs (F.A.S.T.)
Every minute counts when treating a stroke, which is why it is essential to understand the warning signs of this condition. A simple way to keep track of these warning signs is to memorize the acronym F.A.S.T.
F – "F" represents face drooping, a common sign of a stroke in which one side of the patient's face droops or is numb. Asking the person to smile and checking to see if their smile is uneven is a good way to identify this sign.
A – "A" represents arm weakness. A person having a stroke may experience weakness or numbness in one arm. Check for this symptom by asking the person to raise both arms and looking to see if one arm drifts in a downward direction.
S – "S" stands for speech difficulty. If a person's speech is slurred, if they are difficult to understand or if they cannot speak, this is a good indicator that they are having a stroke. Asking them to repeat a simple sentence can help you check for this sign.
T – "T" means time to call 9-1-1. If an individual displays any of the above signs, call 9-1-1 and make sure they get to the hospital right away. This should be done even if the symptoms disappear. Be sure to take note of the time when the symptoms first appeared.
Stroke Prevention
As many as 80% of strokes are preventable. The first step in preventing a stroke is to identify any risk factors that you have. These could be lifestyle risk factors such as diet, smoking or alcohol consumption, or medical risk factors such as high blood pressure and diabetes. Once you have identified these risk factors with your doctor, work to reduce or eliminate these issues by making personal changes or taking necessary medications.
Stroke Treatment, Services, and Recovery
When evaluating a stroke patient, we focus on how to provide necessary emergency treatment as well as how to provide continued care to meet the patient's individual needs. Usually, a head CT scan, brain MRI or another type of scan is completed to assist healthcare providers in evaluating the patient. Stroke recovery is possible in some cases when brain cells are only temporarily damaged and not destroyed. In other cases, a person's brain may be able to reorganize how it functions, or another area of the brain may take over the functions of the damaged area. The patient should begin rehabilitation as soon as possible after a stroke. Rehabilitation can come in several different venues including through a subacute care unit, home therapy, or outpatient therapy.
Awards
Recipient of the American Heart Association's Get With The Guidelines – Stroke Gold Plus Quality Achievement award for ensuring stroke patients receive the most appropriate treatment according to nationally recognized, research-based guidelines.
Recipient of the American Heart Association's Target: Stroke Honor Roll award for meeting specific criteria that reduces the time between an eligible patient's arrival at the hospital and treatment with the clot-buster medication, alteplase.
Recipient of the American Heart Association's Target: Type 2 Diabetes Honor Roll award for providing specialized care to stroke patients with Type 2 diabetes who are at higher risk for complications due to their diabetic condition.
Designated as an Advanced Primary Stroke Center by the American Heart Association, American Stroke Association, and The Joint Commission for our comprehensive capabilities to quickly diagnosis and treat stroke patients admitted to the Emergency Department. We have held the Advanced Primary Stoke Care distinction since 2019.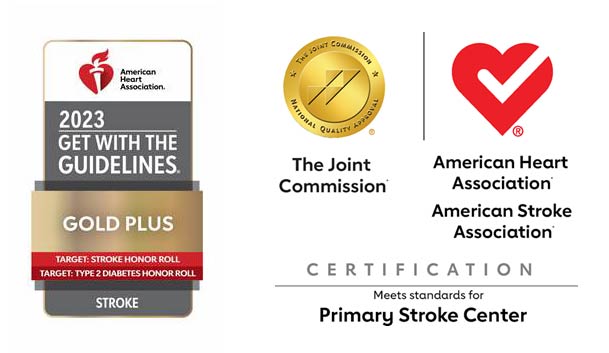 Stroke Resource List for Patients