Wound Care in Staten Island
RUMC's wound care program is part of the Center for Wound Healing's national network&mdah;a network with success rates so high that many managed care companies have designated its locations to be "Centers of Excellence" for the comprehensive management and care of chronic wounds.
The Center for Wound Healing and Hyperbaric Therapy
We provide comprehensive wound care management to the people of Staten Island. Our staff encompasses a multidisciplinary team of wound care specialists devoted to the treatments of chronic wounds. Each brings their own expertise to meet the individual needs of the patient, including plastic surgery, general surgery, vascular surgery, and podiatry.
We specialize in:
Non-healing wounds
Diabetic ulcers
Hyperbaric oxygen therapy
We understand the patient's needs. Those in need of our services might be experiencing:
A wound that has not healed, which causes pain and affects quality of life
Multiple visits to health care providers without any improvement in the wound
Many of our patients look at us as a last resort for help. We have the clinical expertise and the support staff to provide advanced wound treatment in a comfortable hospital-based wound center.
Start the Process
Many of our patients are referred to us by their primary care physician. A patient may also personally call the center at 718-818-1117. During the initial telephone call, we will:
Ask several screening questions relevant to your care and needs
Provide you with one of our wound specialists based upon your records
Collect basic insurance information
Treatments
The Center for Wound Healing and Hyperbaric Therapy offers specialized treatment plans for our patients. While treatment options will be formulated for you based on your needs and the type of wound you have, below are common wound treatments.
Dressings and Wraps – This practice facilitates wound healing through the use of materials that promote naturally occurring tissues with items like compression stockings and other special products.
Negative Pressure Wound Therapy – This is a form of negative pressure therapy that applies a controlled subatmospheric pressure to the wound to promote blood and oxygen flow to the area.
Transcutaneous Oxygen Monitoring (TCPO2) – This diagnostic tool measures the amount of oxygen in the tissue and can determine how effective hyperbaric oxygen therapy will be.
Debridement – This procedure surgically removes dead skin.
Diagnostic testing may be required, including blood work and vascular examinations. We will arrange for a visiting nurse, if needed.
Hyperbaric Oxygen Therapy
This procedure involves the delivery of 100-percent oxygen to you while in our state-of-the-art pressurized hyperbaric chambers.
When the body is injured, the tissue suffers due to a lack of oxygen. Tissue requires a significant amount of oxygen to survive, and a blow to the area creates a deficit. Patients who are treated with hyperbaric oxygen therapy will be placed in a pressurized chamber where the air pressure will be increased to three times higher than normal. The treatment will help the body fight bacteria, and it will encourage the release of growth factors and stem cells, therefore, stimulating support of the tissue.
This treatment modality has been shown to be very effective in healing difficult wounds, particularly those of diabetes, radiation injury, and vascular disease.
Patient Education
At the center, patients should understand all aspects of their care. It is the best way to ensure compliance and leads to successful healing. We will educate you to prevent other wounds in the future and even educate your caregiver.
Our goal is to treat what we treat best. We will provide your private physician with regular updates on your progress. When the wound is healed, we refer you back to your physician for primary care.

Our outstanding clinical staff includes:
Michael Lacqua, MD, Medical Director (Plastic Surgery)
Biagio Pacifico, DO, Plastic Surgery
Peter Andrade, DO, Plastic Surgery
Henry Habib, DPM, Podiatry
Vincenza Mineo, DPM, Podiatry
Aluko Jervis, DPM
Christal Charbonnet, DPM
Georgia Ferrara, FNP-BC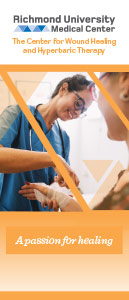 Contact Us
For more information about our services at the Center for Wound Healing and Hyperbaric Therapy, contact us at (718)-818-1117.