Campaign Introduction
RUMC'S Campaign to Transform Healthcare for Staten Island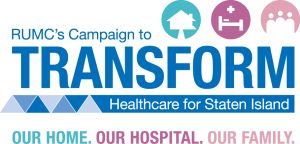 Our Home. Our Hospital. Our Family.
For almost 120 years, Richmond University Medical Center has been Staten Island's hospital. Thanks to the generosity of our neighbors — our family — we offer exceptional patient care, delivered with the personal touch you expect from your home medical center. Now, as demand grows for our award-winning healthcare, we are investing in much-needed facilities and technology so we can provide the next-generation care that Staten Island deserves.
Our Mission
Richmond University Medical Center
The Medical Center is a not-for-profit healthcare provider serving the ethnically diverse community of Staten Island and its neighbors. We provide premier quality patient care through a full spectrum of emergent, acute, primary, behavioral health and educational services. We do this in an environment that promotes the highest satisfaction among patients, families, physicians and staff.
Richmond University Medical Center Foundation The Foundation's mission is simple: To advocate for and financially support Richmond University Medical Center.
Bobby Urs
Foundation Board President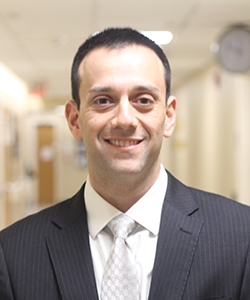 This is a very exciting time for our Foundation! We have successfully concluded our first capital campaign for the new emergency department, exceeding our $10 million goal for a final total of $13 million raised. The support that has been shown from our board members, community members, patients, families, physicians, RUMC employees, and foundations has been overwhelming, and I want to personally thank everyone who donated to this cause.
The Foundation had grown and matured since its inception in 2009. We always had reliable fundraisers such as the Sipp Golf Tennis and Bocce Tournament and our annual Gala, but in 2015 when the first campaign kicked off, our fundraising efforts went into high gear. Since then, we have not only raised major gifts, but also branched out into encouraging planned giving and annual giving.
So what's next? Unfortunately our capital needs are not limited to just the new emergency room. We have identified new operating rooms, remodeled pre and post-surgery areas, a new Medical Intensive Care Unit, a new Surgical Intensive Care Unit, all private mother baby rooms, and a new Neonatal Intensive Care unit and Pediatric Intensive Care unit as new capital priorities. In 2021, we began testing the waters for a second capital campaign by doing a feasibility study, and the study confirmed we had enough support interest to launch a new campaign, which was kicked off at the our emergency room grand opening.
With the recent openings of the new emergency department and the Medical Intensive Care Unit, our patients, staff and visitors are seeing the tangible improvements in our campus. Join RUMC's Campaign to TRANSFORM Healthcare for Staten Island. The campaign "Our Home, Our Hospital and Our Family" sums up the feeling that RUMC is a part of the fabric of the Staten Island Community. Join us in the transformation of RUMC!
Opportunities to Transform Healthcare for Staten Island
With your help, we can expand and upgrade our facilities and technology to provide the best possible care for all our neighbors, whether they need surgery, are critically ill, have suffered a heart attack or are welcoming a new baby.
Surgical Pavilion: designed for larger capacity, state-of-the-art technology and patient comfort
Medical ICU: top medical care for critical patients plus greater access for family members
Mother and Baby Care: renovated NICU, PICU and mother-baby units
Cardiac Catheterization Lab: expanded facility with the latest technology for cardiac and stroke patients
Invest in the Health of Staten Island
Richmond University Medical Center is your hospital. You depend on us for vital healthcare services, close to home. And we depend on you for the support that makes it possible for us to provide vital medical care to our Staten Island family. Please join us in transforming healthcare for Staten Island.