Palliative Care on Staten Island, NY
Patients of all ages are diagnosed with serious, life-changing illnesses. Handling the symptoms and stress of these illnesses can be made easier with the assistance of experienced physicians and medical professionals. The palliative care offered at Richmond University Medical Center on Staten Island, New York, coordinates comprehensive medical services to benefit patients, families, and loved ones as they navigate the challenges of living with disease and illness.
Richmond University Medical Center has earned the Joint Commission's Gold Seal of Approval for quality and patient safety. With specialists from a wide variety of medical fields gathered in one place, we care for patients of all ages who have many medical conditions. Our staff of physicians and other medical professionals provide expertise in treating illnesses by utilizing modern technology and research to provide the best care possible. Patients who require palliative care, and their families and loved ones, can access resources from throughout our organization.
About Palliative Care
As patients and their families come to understand the physical, emotional, and psychological consequences of a serious medical diagnosis, it's important to explore what services can help and improve their quality of life. Part of that process includes learning about the different resources available, such as palliative care or hospice care. It's important to recognize the differences between these two services.
At Richmond University Medical Center, palliative care is offered to help patients who are experiencing pain, stress, and other challenging symptoms related to their illness. This service is offered in addition to the primary treatment plan and is intended to provide day-to-day comfort and assistance for the patient and their loved ones. Palliative care helps with many diseases and conditions, including:
Dementia and Alzheimer's disease
Kidney disease
HIV/AIDS
Lung disease
Multiple sclerosis (MS)
Hospice care is similarly focused on quality of life but within the context of the last stages of a terminal illness, or the end of life. When necessary, the palliative care team at Richmond University Medical Center also offers hospice care.
Most insurance plans, including Medicare and Medicaid, provide coverage for palliative care. Our patients can receive these services in a variety of settings, including:
Hospitals
Outpatient facilities
Senior living
Home
Our Palliative Care Services
The compassionate, experienced practitioners who provide palliative services at Richmond University Medical Center are dedicated to patient-centered care. Our team includes physicians, nurses, social workers, pastoral care providers, and other specialists and offers the following services:
Care coordination: We work with primary, specialty, and outpatient services to provide effective, supportive care.
Behavioral health resources: We understand that living with serious illnesses can cause stress, anxiety, and emotional disruption. Behavioral health counseling and medication services can help.
Pain management: We consult with your physicians to help provide comfort and relief.
Spiritual care: We connect patients with religious services and faith-based guidance at their request.
Social service referrals: We connect patients with appropriate community resources.
Home and facility care management: We coordinate care in the patient's home environment.
End-of-life planning: We offer respectful, discreet assistance for patients who request do not resuscitate orders and advanced directives, as well as funeral arrangements.
Our mission at Richmond University Medical Center is to treat patients and loved ones like family, and our palliative care services are an excellent example of this ethic. With compassion, dignity, excellence, and respect, our team of specialized practitioners offers comfort and hope to patients with serious illnesses. As patients receive therapeutic treatments, regain strength with rehabilitation services, relearn skills of daily living, and recognize new perspectives and opportunities, our palliative care team is by their side with skills that provide comfort and hope.
Download our latest brochure, which provides details about the palliative care services offered at Richmond University Medical Center. When patients and their loved ones receive a diagnosis of serious illness or other medical condition that requires focused, compassionate support from knowledgeable medical professionals, our palliative care team is available to assist.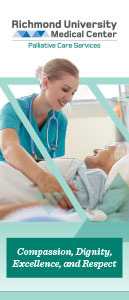 Learn More About Palliative Care at Richmond University Medical Center
With comprehensive services available to patients throughout Staten Island, New York, and the surrounding area, Richmond University Medical Center is an excellent resource for the community. We strive to be welcoming to all patients and families by treating them with energy, respect, and compassion. Our palliative care services fit seamlessly into these goals by providing important care for patients who are dealing with challenging health crises. By offering supportive care aimed at helping patients feel better while recovering or adjusting to their conditions, Richmond University Medical Center is truly part of the fabric of our community. For more information about palliative care and our other services, contact us today.