Radiation Oncology on Staten Island, NY
Through the Oncology Department at Richmond University Medical Center, a variety of cancers are diagnosed and treated. One of the many therapies available for treating cancers is the use of high dose radiation to kill cancer cells. Several types of radiation therapy are used, often in conjunction with other cancer treatments. Comprehensive cancer care is available on Staten Island, New York, at Richmond University Medical Center's state of the art Center for Cancer Care.
What Is Radiation Therapy?
Also known as radiotherapy, this cancer treatment channels strong doses of radiation to destroy cancer cells and shrink tumors. Cancer cells are abnormal, or genetically mutated, and they grow uncontrollably in the body. Damaging the DNA of these cells can help shrink the area of cancer growth. The goal of radiation therapy is to affect the DNA of the cancer cells, which controls how the cells divide and spread. In this way, reproduction is slowed or becomes impossible. As these harmful cells die, the body breaks down the materials and removes them.
Radiation therapy is usually prescribed for several days or weeks of treatment. This is because it takes time for high doses of radiation to damage or kill the cancer cells. After the radiation treatments are ended, the cancer cells continue to die off, sometimes for weeks or months. There are several types of radiation oncology. The multispecialty team of radiologists, physicians and medical practitioners at Richmond University Medical Center's Center for Cancer Care work together to determine the optimal dose, duration, and type of delivery best suited for the specific patient and their cancer diagnosis.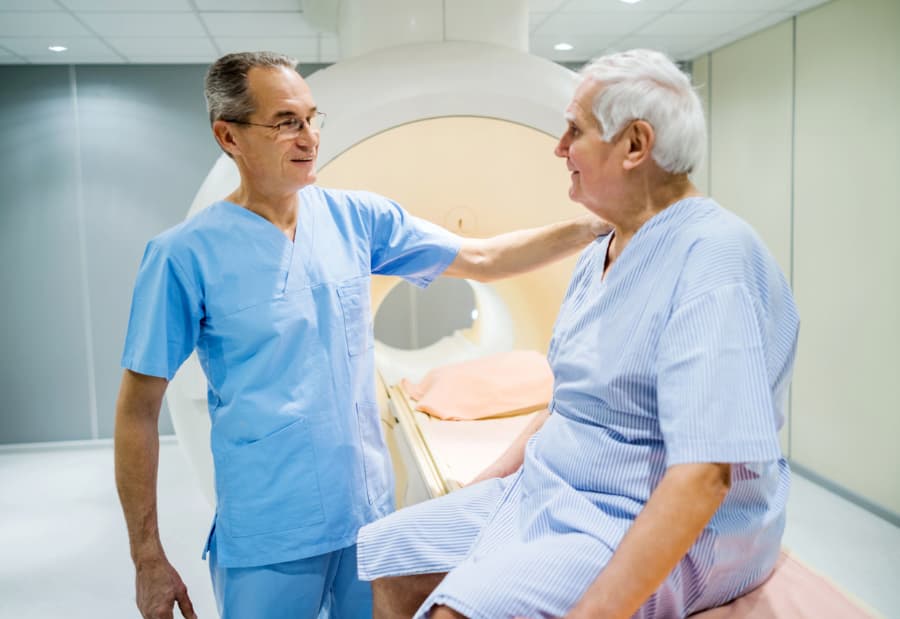 Types of Radiation Therapy
There are always new developments and research in the area of radiation oncology. Our experienced medical professionals at the Center for Cancer Care provide up-to-date, knowledgeable treatment for cancers. Radiation therapy is usually applied either externally or internally. These are the main types of radiation therapy available:
Linear Accelerator (LINAC) Therapy
High-energy X-rays are directed via an external beam at tumors and cancer cells. The machine can move and rotate around the patient's body to target areas of cancer, while safety protocols help protect healthy tissues from the treatments.
Image-Guided Radiotherapy (IGRT)
Imaging techniques, such as MRIs and CT scans, are utilized before each radiation therapy treatment to assist in guiding treatments to specific areas of cancer growth or tumors. This technique ensures that each treatment targets areas of cancer growth.
Stereotactic Radiosurgery
Careful positioning of the patient helps physicians apply precise, powerful treatments to small tumors or well-defined areas of cancer growth. This technique is not surgery, as there are no incisions involved. It is often used for brain tumors.
Stereotactic Body Radiotherapy
Often used in more sensitive areas of the body, such as the spine or vital organs, this technique reduces damage caused to healthy tissues and functioning systems located nearby. It operates through the delivery of high doses of radiation from different angles, all directed toward the tumor and cancer cells.
High Dose Rate (HDR) Brachytherapy
In this internal radiation therapy, radioactive implants are introduced inside the body. These deliver treatments directly to tumors and areas of cancer growth. A variety of types of implants are available and are placed near the tumor or cancer cells. Imaging technologies are used to guide the exact placement of the radioactive implant. Brachytherapy is often used after surgical removal of cancer growths, to help eliminate any remaining cancer cells.
To determine which type of radiation therapy will work best with each individual cancer diagnosis, our oncologists and radiologists consider several factors:
Type and stage of cancer
Location of cancer cells and proximity to healthy tissues
Planned treatment regime
Age and medical history
Overall health
Benefits and Side Effects of Radiation Therapy
Radiation therapy is a common treatment for cancer. Almost two-thirds of all cancer patients receive these treatments. Scheduling can take place in outpatient settings and each treatment usually takes a short amount of time. Medical professionals carefully monitor the progress of the treatment and how well the patient tolerates the radiation therapy. Some common side effects of radiation therapy include:
Skin irritations in the area of treatment
Fatigue
Loss of appetite
The medical team is familiar with side effects related to radiation therapy and can help patients manage with individualized strategies.
Cancer Treatments Available at Richmond University Medical Center
There are a variety of cancer treatments available at Richmond University Medical Center's Center for Cancer Care. We offer care and treatment for the following:
In addition to these comprehensive oncology services, patients and families of Richmond University Medical Center can access The Family Care and Support Program. Assistance is offered through family conferences with trained therapists and social workers, as well as facilitated support groups.
Staten Island's Choice for Radiation Oncology
The American College of Surgeons Commission on Cancer has accredited our oncology program for over 80 consecutive years, the longest consecutive accredited oncology program on Staten Island. We offer the latest in diagnostic and treatment technologies and offer experienced cancer care for the New York and New Jersey Metropolitan Area. If you or a family member is concerned about a health condition, schedule an appointment at Richmond University Medical Center.
Learn more about our oncology services at our Center for Cancer Care, located at 1000 South Avenue, Suite LL3, Staten Island, New York, 10314. Call 718-818-3000 or contact us today.