f you're in need of speedy, reliable medical care without an appointment, look no further than the Richmond University Medical Center Primary Walk-In/Immediate Care Center at 1058 Forest Ave (corner of Manor Road) in Staten Island, NY. Our facility offers a wide range of medical services, as well as flexible hours, to give you the medical attention you deserve when and where you need it.
Hours
Weekdays: 10:00am to 8:00pm
Saturday: 8:00am to 2:00pm
The expert team at our Forest Avenue location offers comprehensive walk-in medical services, including:
General medicine
Bloodwork
Geriatric care
Laboratory services
Preoperative evaluations
Ultrasound
EKG/ECG
Vaccinations
Wellness visits
X-rays
Pulmonary
Gastroenterology
General Surgery
On- site Radiology
Cardiology
Download our brochure!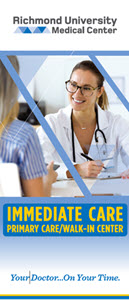 Primary Walk- in/ Immediate Care Center Physicians:
Keith T. Diaz, MD
Manuel Gonzalez, MD
Lance U. Jung, MD FACS
Helen Kay, DO
Subbaraju Polepalli, MD
Francesco Rotatori, MD
Peter Stathopoulos, MD
William Tursi, MD
Get in Touch with Our Forest Avenue Team
Visit our Forest Ave. facility to take advantage of our services when you need them most – we're open Monday – Friday, 10:00 a.m. to 8:00 p.m., and Saturday, 8:00 a.m. to 4:00 p.m., to accommodate your busy lifestyle. Situated at 1058 Forest Avenue, Staten Island, NY 10310, the facility is located at the corner of Manor Road and is close to both the Staten Island Expressway and MLK Expressway (Route 440).