The Family Health Center of Richmond University Medical Center works to meet the healthcare needs of adults and children in the Staten Island, NY area. Our healthcare professionals are fully versed in providing quality care with latest, necessary medical equipment and resources you need. Our team-based approach to treatment calls upon the specialties of several physicians, including primary care, surgeons, neurologists, oncologists and more, all dedicated to helping our patients reach their optimal health in a coordinated way.In addition to providing you with the necessary treatments, our specialists self-educate you on how to self-manage your health in the interests of leading the ideal lifestyle. We also offer counseling for alcohol and substance abuse, as well as depression. We hold ourselves accountable for our patients, and will keep you informed every step of the way.
Monday: 8:30AM – 4:30PM
Tuesday – Wednesday: 8:30AM – 7:30PM
Thursday – Friday: 8:30AM – 4:30PM
Saturday (Pediatrics Only): 8:30AM – 12:30PM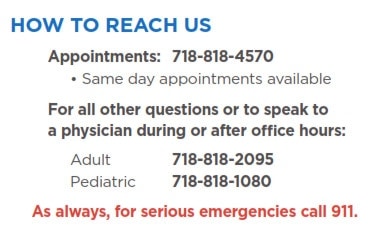 Our treatments incorporate methods of evidence-based care of the highest quality, including:
• Wellness visits
• Annual physicals
• Screens for substance abuse and cancer
• Chronic care management
• Immunizations
• HIV Testing
NOTICE TO PATIENTS
This practice serves all patients regardless of ability to pay.
Discounts for essential services are offered based on family size and income.
For more information, ask at the front desk or visit this web page: 
Thank you.