UPCOMING BARIATRIC WEIGHT LOSS SEMINARS / All Seminars Begin at 6pm
6/24/2021
7/22/2021
8/26/2021
Microsoft Teams meeting/ Join on your computer or mobile app
Click here to join the meeting
UPCOMING BARIATRIC SUPPORT GROUPS / All Support Groups begin at 5pm
6/9/2021
7/14/2021
8/11/2021
9/8/2021
Microsoft Teams meeting/ Join on your computer or mobile app
Click here to join the meeting
Topics for seminar:
What are my options for weight loss surgery?
Am I a candidate?
What are my next steps?
Bariatric and Metabolic Institute

The level of service provided by Richmond University Medical Center's Bariatric and Metabolic Institute in Staten Island, NY is unsurpassed. Our team operates with the highest level of integrity when it comes to improving the health of patients suffering from morbid obesity. We strive to improve medical co-morbidities and achieve weight loss goals while still being mindful of the sensitivity and needs of our patients. Whether you require surgery or other treatments, we will go the extra mile to keep you comfortable and at ease throughout the procedure.

If you are struggling with losing weight, and require surgical options, get in touch with Richmond University Medical Center's Institute of Weight Loss and Metabolic Surgeon. Dr Alex Barkan will happily help you on your journey to live healthier, lighter and longer.

Monday – Thursday 9:00am-5:00pm
Friday 9:00am-4:00pm

Patient Hours
4434 Amboy Road 10312 Tuesdays 9:00am-1:30pm
1161 Victory Blvd 10301 Tuesdays 3:00pm-7:00pm
355 Bard Avenue Cooke clinic 10310 the 1st and 3rd Thursday of the month from 1:00pm-4:00pm
Meet the Doctor:
Alex Barkan, M.D., M.B.A, F.A.C.S, F.A.S.M.B.S
Bariatric Surgeon/ General/ Laparoscopic/ Endoscopy: Practicing full spectrum of Bariatric Surgery since 2006. Performed over a thousand surgeries including, gastric bypasses, gastric sleeves, revisions, conversions and lap bands. Have been using the Davinci robot system since 2013. Performed several hundred robotic surgeries including gastric bypasses, gastric sleeves, and full spectrum of general surgery. Perform over hundred endoscopies per year.


Check out our brochure!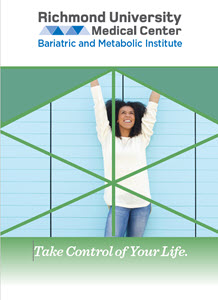 Address
1161 Victory Blvd
Staten Island, NY 10301
Hours
Hours TBA
Services Offered
The Institute for Weight Loss and Metabolic Surgery provides the following services:
Sleeve gastrectomy
Gastric bypass
Bariatric conversion surgery
Bariatric revision surgery
Lap band surgery
Endoscopy services
Support groups