Men's Recommended Cancer Screenings in Staten Island, NY
There are various cancers that men are especially prone to develop, which is why routine cancer screenings are essential to preserving their health. In Staten Island, New York, Richmond University Medical Center (RUMC) provides cancer screenings based on age-related risk factors and other considerations. RUMC is known for its expert oncology services, first earning accreditation over 80 years ago from the American College of Surgeons' Commission on Cancer, making its cancer care program the longest consecutively accredited program of its kind on Staten Island. Learn more about cancer screenings for men and what they entail.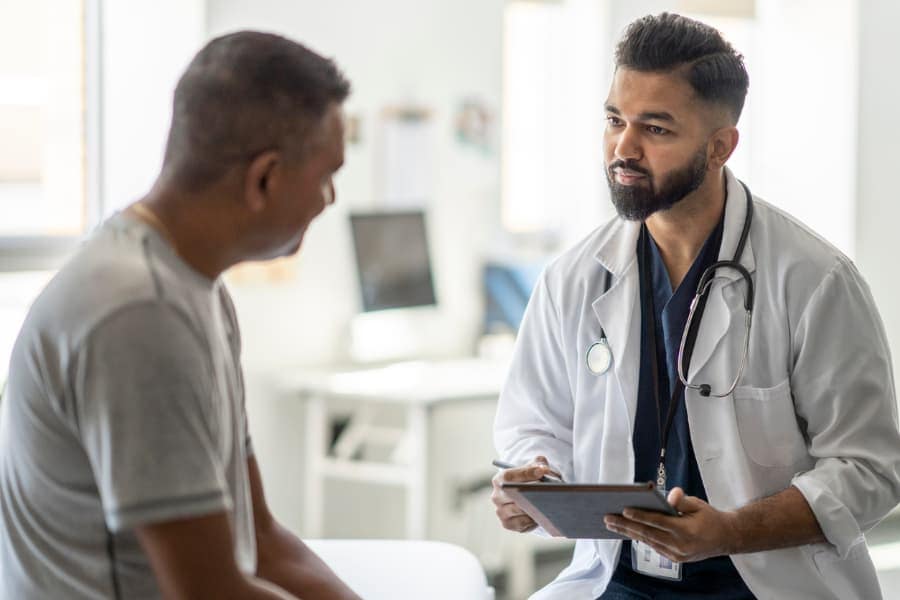 What Are Cancer Screenings?
Cancer screenings involve diagnostic testing to determine whether a patient has cancer before they show any symptoms. This gives patients the best chance for a positive outcome after a cancer diagnosis and can expand their treatment options. Cancer screenings allow physicians to spot abnormalities in cells, which might be indicative of cancer, as well as early-stage tumors that have formed due to irregular cells dividing out of control.
For men, the specific tests each patient requires will depend on individual risk and age. Cancer screenings are usually performed with routine, out-patient tests such as:
Colonoscopy
Genetic testing with cheek cell, blood, or saliva samples
Imaging tests such as:

Bone scans
Computed tomography (CT) scans
Magnetic resonance imaging (MRI)
Ultrasounds
X-rays

Physical evaluation
Prostate-specific antigen (PSA) test
Types of Cancer Screenings for Men
Symptoms alone cannot indicate the signs of cancer, as some symptoms overlap with other medical conditions. Further, some forms of cancer do not show symptoms until later stages, making preventative cancer screenings a must for the best chance at an early diagnosis. RUMC offers various cancer screenings for men, including the following:
Colorectal Cancer Screening
To screen for colorectal cancer, physicians may need to collect a stool sample for testing, as well as perform a visual exam of colon and rectum structure for irregularities.
A colonoscopy procedure is another recommended colorectal cancer screening method. A colonoscopy is the gold standard for colorectal cancer. During this procedure, a thin tube is inserted into the patient's colon and rectum, and a camera is used so physicians can examine for abnormalities. If the physician finds polyps or cancer, they can sometimes be removed during the colonoscopy.
Screening frequency for men depends on age:
Ages 30-39: Men at a higher risk should ask their physician when to begin screening.
Ages 40-49: Men should begin screening by age 45 or earlier if at a higher risk for colorectal cancer.
Ages 50–64: All men at average risk should receive screenings at least every 10 years, but their physician can help them determine a schedule based on personal risk.
Ages 65-75: Men should continue to receive regular screenings until age 75.
Ages 76+: Screenings are not necessary as long as patients have displayed good screening results for at least 10 years.
Lung Cancer Screening
Smoking tobacco is the leading cause of lung cancer, but it can also be found in non-smokers due to radon, hazardous air particles, certain chemicals, or exposure to other contaminants. This is why all men need to receive routine lung cancer screening beginning at age 50. Men should continue to receive screenings into their 60s and 70s, though the frequency will depend on individual risk factors, such as:
Being a smoker
Quitting smoking in the last 15 years
Having a 20-pack-year or more smoking history (one pack per day = one pack year)
Showing no signs of lung cancer, as symptoms develop in later stages
Low-dose computed tomography (LDCT) scans are the go-to test for lung screenings. With a low dose of radiation, LDCT scans are a type of X-ray that can quickly scan the chest and generate highly detailed images of the lungs.
Prostate Cancer Screening
Prostate cancer is the most common cancer in American men and primarily affects those over age 65. Beginning at age 50, men at average risk should start getting screened regularly. However, physicians may recommend screenings at a younger age for patients who:
Are of African American descent
Have a history of prostate cancer before age 65 in a father, son, brother, or another close relative
Have more than one relative with a history of prostate cancer before age 65
Prostate cancer screenings are performed with a prostate-specific antigen (PSA) blood test. PSA is a substance made by the prostate, and higher PSA levels can correlate with the presence of prostate cancer. Screenings should continue regularly until men are age 65. At that time, their physician may recommend continuing screenings depending on individual risk.
Skin Cancer Screening
People of all ages should receive routine skin cancer screenings, especially if they have lighter complexions, which is a risk factor for the disease. Men should complete routine self-checks for suspicious moles or spots, and if anything concerning is noticed, they should schedule a screening right away. Even if nothing looks suspicious, getting a skin cancer screening every few years can ensure patients do not miss anything during their self-examinations.
Testicular Cancer Screening
Testicular cancer screens are a usual part of a man's routine physical with his physician. However, if patients have not been regular with their annual physicals, it is wise to get screened for testicular cancer right away. Further, all men should always be familiar with the look and feel of their testicles and regularly check their testicles for lumps, bumps, and other changes that may indicate testicular cancer.
Schedule a Cancer Screening on Staten Island, New York
One of the best things a man can do for his health is to receive the right cancer screening at the right time. When cancer is caught in its early stages, treatment regimens can have a greater chance of success. For more information about oncology services through RUMC's Center for Cancer Care, including cancer screenings for men, contact Richmond University Medical Center on Staten Island, New York, today at 844-934-2273.