RUMC History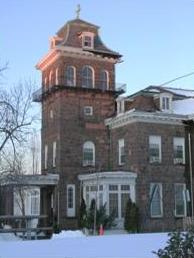 The Garner mansion, a mansard-roofed stone was built by Charles Taber and owned by W.T. Garner[1]. The building had been offered to ex-President Ulysses S. Grant as a retirement home, but Grant and his wife were reportedly dissuaded by a summer swarm of mosquitoes. This mansion still stands on the grounds and now houses the departments of Medicine, Surgery, Human Resources, Employee Health, the Information & Technology departments and the Medical Students Education Center for the American University of Antigua (AUA) and Saint George University (SGU).
The original St. Vincent's Hospital opened in 1903 as a 74-bed facility under the direction of the Sisters of Charity of New York (1903-1999). The hospital was greatly expanded and modernized over the years, and acquired the former U.S. Public Health Service Hospital in Stapleton, today called Bayley Seton Hospital,where Psychiatry, Substance abuse and other services are located.
In 1999 Saint Vincent's Catholic Medical Center of Manhattan (1999-2007), founded by the same Sisters, sponsored the facility and 7 other catholic hospitals in NYC.
In 2006, after a long bankruptcy process St. Vincent's on Staten Island was sold to Bayonne Medical Center and spun off as Richmond University Medical Center (2007-present), which is now a free standing community hospital.
Richmond University Medical Center (RUMC) is located in West New Brighton, Staten Island. The hospital is a level 1 trauma center, a designated Stroke Center, has an outstanding Women's and Children's Care Services. All RUMC residency programs are accredited by ACGME, and we are fully engaged in the new eaccreditation system (NAS).
RUMC has 2 campuses:
355 Bard Avenue Staten Island, NY 10310 (West Brighton) housing Medical, Surgical, Pediatric, Maternity and Acute Psychiatric care, as well as a brand new stat-of-the-art Endoscopy suite.
75 Vanderbilt Avenue, Staten Island, New York 10304 (Stapleton) housing Psychiatry Substance Abuse services.
RUMC is licensed to operate about 448 beds that include Medicine, Surgery, Pediatrics and Neo-Natal Care, Gynecology, Obstetrics and Maternity Care, Intensive Care Units, Psychiatry, Behavioral and Substance Abuse Disorders.
| | |
| --- | --- |
| Cardiac IntensiveCare | 10 |
| Medicine Intensive Care | 10 |
| Surgery Intensive Care | 10 |
| Neonatal Intensive Care 8 | 34 |
| Neonatal Continuing Care | 6 |
| Neonatal Intermediate Care | 11 |
| Pediatric Intensive Care Unit | 3 |
| Pediatric | 23 |
| Maternity | 8 |
| Medical-Surgical | 291 |
| Psychiatric / Mental Health | 35 |
| Alcohol Detoxification | 7 |
| Total Beds | 448 |
---
[1] http://www.preservtionleagueofstatenisland.org/2010/09/garner-mansion-day-at-landmarks.html