When you have concerns about your health and require diagnostic imaging, you deserve the highest standard of care. At Richmond University Medical Center, our Breast Imaging Center uses the latest equipment to provide routine mammograms, and other imaging with efficiency and compassion. Our team strives to offer a positive experience for every patient, delivering the care you need in a comfortable environment from start to finish.
What to Expect
Located within Richmond University Medical Center's Comprehensive Breast and Imaging Center, the Breast Imaging Center provides access to state-of-the-art medical imaging technology that helps physicians determine the appropriate course of treatment and offers peace of mind. In some cases, same-day results are available.
Our imaging center features private changing rooms and lockers, two ultrasound units, and two 3-D mammography units. During your visit, our team will make every effort to ensure your comfort and answer any questions you may have.

The Patient Experience: Meet Skye


Breast and Other Imaging Technologies
Our physicians and technicians utilize a variety of state-of-the-art equipment to identify abnormalities, guide biopsies, and perform routine screenings. Your physician will explain which imaging method will be used to ensure you feel confident before undergoing any procedure. Our imaging capabilities include:
3-D Mammography: 3-D mammography creates a three-dimensional image of the breast by combining three breast x-rays into a single composite. Primarily designed for patients with dense breast tissue and those who are not currently exhibiting symptoms of concern, 3-D mammograms are gaining popularity due to their increased accuracy over traditional 2-D mammograms, reducing false-positive results and diminishing the need for follow-up imaging.

Breast Ultrasound: Ultrasound technology uses high-frequency, low-power sound waves to create an image of structures within the body. In this case, we use ultrasound imaging to monitor the structures within the breast for any abnormalities that might be present. The best part is that most ultrasounds require little to no preparation, making them a highly valuable and convenient method of screening.

Stereotactic Breast Biopsy: In some cases, imaging identifies breast tissue abnormalities that require further analysis. When this occurs, your doctor performs a biopsy, a procedure that removes a very small sample of breast tissue for further analysis. To ensure accuracy for tissue collection, a stereotactic biopsy compresses the breast between two plates while mammogram images are captured from various angles. These images help pinpoint the site of the abnormality to ensure a more precise, relevant tissue sample. After making a very small incision in the proper area, your doctor will use a needle to remove the sample for laboratory analysis.

Ultrasound-Guided Breast Biopsy: Like stereotactic breast biopsies, this procedure helps ensure accurate collection of tissue samples. An ultrasound technician will use a transducer to locate the abnormality. Next, a small incision will be created to remove the tissue sample.
Staten Island's Trusted Source for Breast Imaging and Health
Diagnostic imaging plays an important role in breast health, giving you the best opportunity for early identification of breast conditions. If you have questions about breast health or would like to schedule an appointment, contact the Imaging Center by calling (718)-818-1161, Option 2.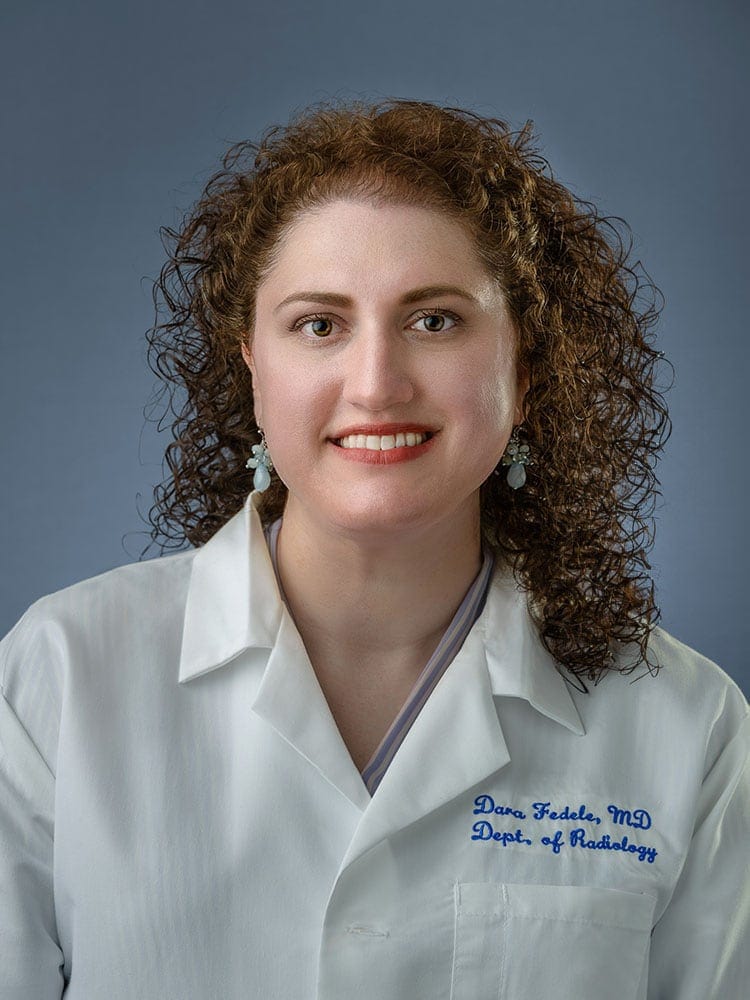 Dara Fedele, M.D., D.A.B.R.
Board Certified Breast and General Radiologist