Adult Trauma Treatment | Richmond University Medical Center
Adult Trauma Section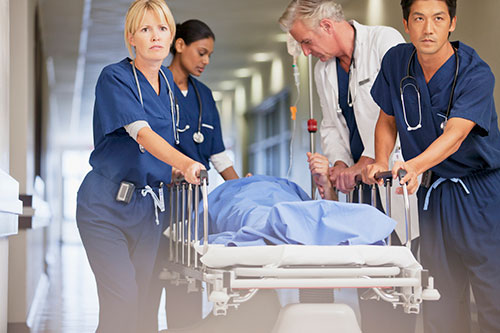 Our team of on-call emergency medical experts and specialists offer comprehensive care for adults, providing expert treatment when it is needed most. If you or a loved one experiences a traumatic injury, our team is standing by to provide the highest standard of care available.
Our Capabilities
Our emergency department is accredited by the American College of Surgeons. That means our services adhere to rigorous standards, ensuring the highest quality of care, including:
The ability to treat a high volume of patients 24/7 and 365 days per year
Being fully equipped for all stages of the complete care cycle, from prevention to emergency surgery to rehabilitation
Continuous education for our emergency medical care team on the best practices and latest advancements in research and technology
An active quality assessment program to ensure the highest level of patient care and safety is provided at all times
Richmond University Medical Center is also a New York State designated Stroke Center and has received national recognition from the American Heart Association/American Stroke Association for its stroke and cardiac care services. We have also been accredited for our emergency care by The Joint Commission, the nation's oldest and largest standards-setting and accrediting body in health care.
We also offer both inpatient and outpatient behavioral health services, including Staten Island's only inpatient psychiatric services for adolescents.
Wide Range of Expert Care
In addition to experienced trauma physicians and registered nurses, our team also includes numerous board-certified subspecialists in a variety of fields, including:
Anesthesia
Cardiology
Endocrinology
Gastroenterology
Hematology
Infectious diseases
Intensive care
Neurosurgery
Orthopedics
Plastic surgery
Pulmonary medicine
Radiology
And more.
Seek Trauma Care in Staten Island
Available 24 hours daily, the Richmond University Medical Center emergency department serves adult patients with compassionate, expert-level care. To learn more about available services, contact us online, or call 844-934-CARE. We are located at 335 Bard Ave in Staten Island for easy access at any time.
Dial 9-1-1 immediately in the event of an emergency.
For all questions about Adult Trauma, please call (718)-818-2942