Students donate over $6,000 for RUMC's Breast and Women's Center
On November 6, over 150 students from Dragon Kim's Karate USA did their part to help chop down breast cancer and support those in the community battling the disease. The students sold pink karate belts throughout October, which is National Breast Cancer Awareness Month, and donated the proceeds to Richmond University Medical Center's Breast and Women's Center. The students raised $6,125 from the month long fundraiser.
"On behalf of our staff and especially our patients, I want to thank the students, their parents, and their instructors at Dragon Kim for stepping up and playing an active role in the war on cancer," RUMC President and Chief Executive Officer, Daniel J. Messina, PhD, FACHE, said. "I know our oncologists and entire medical staff feel lucky to have them by our side."
Dr. Messina was on hand to accept the check from the students along with RUMC's Cancer Service Line Director, and Director of Hematology-Oncology, Victoria Forte, MD. In addition to presenting them with the check, the students provided a demonstration of their skills, all while wearing pink belts to show their continued support.
"We here at Dragon Kim's Karate USA are honored and privileged to see how many students, friends and families came together to support such an important cause," C.J. Eadicicco, one of the school's instructors, said. "To see children as young as three years old participate in the fight against breast cancer is a testament to how no matter what size, age, or background you come from, when we stand together, united, we can all make a major impact for not only our community, but for generations to come."
A state-of-the-art "wellness" center, RUMC's Breast and Women's Center is focused on the prompt diagnosis, prevention and treatment of breast cancer and other non-cancerous breast conditions. Open since 2018, the breast center's board certified specialists and trained medical staff specialize in patient centered care. The center has a full suite of advanced diagnostic equipment to provide advanced digital breast imaging, 3-D mammography, stereotactic breast biopsies, ultrasounds, and ultrasound-guided breast biopsies. The center is also equipped to perform minor surgical procedures on-site. The center has earned Gold Seal certification by the American College of Radiology since 2019 in the areas of mammography, breast ultrasound, stereotactic biopsy and ultrasound guided biopsy services. The gold seal represents the highest level of accreditation provided by the ACR for quality of care and patient safety. This year also marked the 84th consecutive year of accreditation by the American College of Surgeons' Commission on Cancer for RUMC's oncology program. This makes the hospital's oncology program the longest consecutively accredited cancer program on Staten Island.
RUMC's Breast and Women's Center can be reached at 718-818-1161 and is located at 1161 Victory Blvd., Staten Island, NY 10301.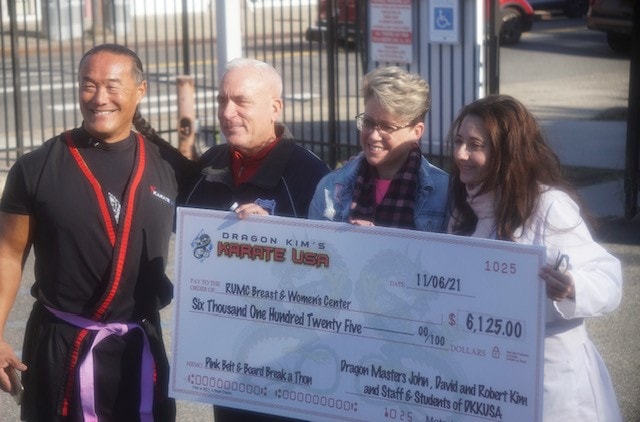 Richmond University Medical Center (RUMC) is a not-for-profit healthcare provider serving the ethnically diverse community of Staten Island and its neighbors. The medical center provides premier-quality patient care through a full spectrum of emergent, acute, primary, behavioral health, and educational services. RUMC does this in an environment that promotes the highest satisfaction among patients, families, physicians and staff. For more information call 1-718-818-1234 or visit www.rumcsi.org. Follow us on Facebook, Instagram, LinkedIn and Twitter.
CONTACT:
Alex Lutz
Assistant Vice President, Public Relations & Marketing