Richmond University Medical Center supports the behavioral health needs of children and families through robust services, programs, and initiatives, including Project LAUNCH (Linking Actions for Unmet Needs in Children's Health). Learn more about how our compassionate team is supporting Project LAUNCH and what this initiative means for children and families in need.
What Is Project LAUNCH?
A federal initiative created by the National Center for Healthy Safe Children and funded by the Substance Abuse and Mental Health Services Administration (SAMHSA), Project LAUNCH has a mission to promote the wellness of young children ages birth to 8 by addressing the physical, social, emotional, cognitive, and behavioral aspects of their development.  With a goal to prepare children for success in school, Project LAUNCH specifically aims to:
Ensure children are ready to learn when entering school
Improve coordination and collaboration amongst systems serving children
Build infrastructure by increasing the availability of quality, evidence-based programming
Increase children's and their families' access to top-notch prevention, wellness, and physical and behavioral health services
Richmond University Medical Center is amongst a handful of grant recipients for Project LAUNCH, a highly competitive award with only 12 other grantees per cohort. What we learn throughout the five-year term of the grant will help communities influence state-, territorial-, and tribal-level systems changes and policy improvements.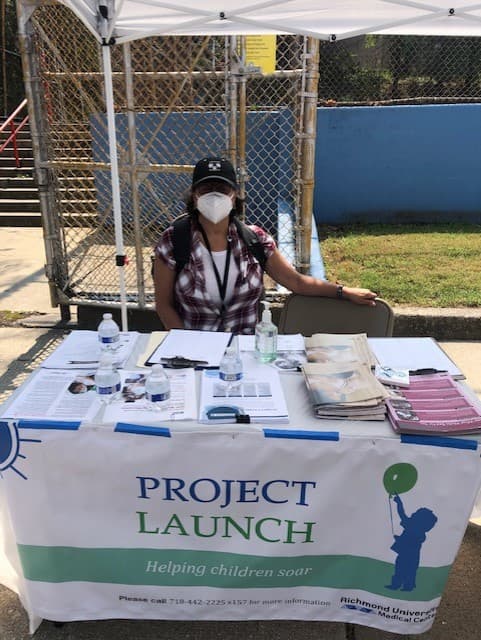 Who Does Project LAUNCH Benefit?
Project Launch's services are open to children ages eight and younger, their caregivers, and expecting caregivers living in the North Shore area of Staten Island, including the following zip codes:
10303
10302
10310
Portions of 10301, 10304, 10305, and 10314 located above the Staten Island Expressway
Our Involvement at Richmond University Medical Center
As a five-year grant recipient of Project LAUNCH, Richmond University Medical Center began work on this important, federally funded initiative in 2019. We have assigned a dedicated team to fulfill our commitments and the project's mission, including the following individuals:
Clinical Director: Miriam Prat-Jerez, MBA, LMHC
Project Director: Meghan Higgins, LMSW
Community Health Workers: Melissa Moreira and Grace Yu
Mental Health Technician: Donald Catanzaro
Behavioral Health Therapist: Dana Scotto, LMSW
Our headquarters for this initiative are located at 657 Castleton Ave, however, through our mobile van we are able to bring the services to our community members at their preferred location, including:
Behavioral health services
Assessment of needs and goals
Adequate referrals
Parenting support and intervetions
Education and behavior modification strategies
Care coordination
Ad hoc visits and check-ins for participants
Request More Information about Project LAUNCH
Project LAUNCH depends on strong partnerships like ours to not only implement core prevention and promotion strategies based in the latest research but also increase public awareness about healthy child development. If you are interested in receiving services through the Project LAUNCH initiative at Richmond University Medical Center, would like to partner with our project, or would like to request further information, please contact Meghan Higgins at mhiggins@rumcsi.org or call 718-818-6715.
---