Program
Staten Island, NY Program Directors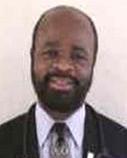 Dr. Jay Nfonoyim
Program Director, Chief of Critical Care and Clinical Medicine, Clinical Assistant Professor of Medicine at NYMC.
Dr Jay M. Nfonoyim, MD is a graduate of our Internal Medicine Residency Program in 1990. He did his Intensive Care training at Mt. Sinai before returning to run our ICU. Prior to coming to SVCMC, he was director of the Surgical Trauma ICU at Elmhurst Hospital Center and Assistant Professor of Surgery at Mt. Sinai Medical School. He is now a Clinical Assistant Professor of Medicine at New York Medical College. In July 2003 he became an Associate Program Director and is currently the Program Director.
Dr. Sundee Naing
Associate Program Director, Assistant Professor of Clinical Medicine, and member of the NYMC Faculty.

"I consider it a great honor and privilege to supervise residents and serve excellent medical care to the diverse population of patients in Staten Island. I love practicing medicine and find working with residents personally and intellectually rewarding. My goal is to help the residents improving their education and training in medicine to reach their professional goals and personal values."Dr. Sundee Naing graduated from Institute of Medicine, Yangon, Myanmar and completed her residency in Internal Medicine at the former St. Vincent Medical Center graduating in 2005. She served as a Chief Resident in her third year of residency. Dr. Naing is Board Certified in Internal Medicine. She has been working for several years as a hospitalist and a also as a physician advisor to case management. She is also the director of the Pre- Internship Program (5th Pathway) of New York Medical College. Her experience in private practice brings expertise useful to link residents with community physician preceptors. At RUMC she is also directing the Primary Care Track program of the Internal Medicine Residency.
Dr. Ana Paula Oppenheimer
Associate Program Director, Assistant Professor of Clinical Medicine, and member of the NYMC Faculty and Director of ASSIST, NYS Anti-Smoking Program
"The RUMC IM program has old and deep routes within the institution. We want to preserve that history while bringing in the technologies and innovation of the 21st century, to make it a stellar program. We are deeply invested in increasing the Internal Medicine passing rates by emphasizing diverse and stimulating educational activities, while maintaining a high quality care for our patients. The 3 years at RUMC will be counted among the best in your professional career as it will shape your thinking about medicine and your professionalism and provision of care for the rest of your life. You will get new skills in clinical medicine, research, management and quality improvement. You will foster the best friendships here. We count with mature and seasoned faculty that will challenge you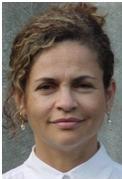 all along and great ancillary services. We seek reliable, inquisitive, dynamic, forthcoming, studious and dependable, residents who will continue to make us proud of our work".
Dr Ana Paula Oppenheimer graduated in Medicine from the University Agostinho Neto in Luanda, Angola in 1986. She has clinical experience working in less developed countries, where she also developed experience managing and evaluating public health programs in the areas of immunization, essential drugs, maternal and child care, and medical education among others. She received a Masters of Public Health degree from Boston University School of Public Health (BUSPH) in 1996 after which she worked as an international consultant in several countries in Africa and Mexico and Central America. She is a graduate of our Internal Medicine Residency Program of 2008. Subsequently she completed a fellowship in Infectious Diseases at Wake Forest University Medical Center in 2011 after which she joined RUMC as Associate Program Director. In addition to clinical experience Dr Oppenheimer brings her expertise in program development and evaluation, medical education and research to the residency program.
Administrative Staff
Faculty
| | | | |
| --- | --- | --- | --- |
| Name | Specialtyby alphabetical order | Training affiliation | Year joining RUMC |
| Frank Tamburrino, MD | Cardiology | Saint Vincent's Catholic MC | 2005 |
| Nidal Isber, MD | Cardiology | SUNY Downstate | 1997 |
| Samala Swamy, MD | Cardiology | Saint Vincent's Catholic MC | 1979 |
| Richard Grodman, MD Section Chief | Cardiology | Brown University | 1979 |
| Edward Arsura, MD, Dept Head | Critical Care | Maimonides | 2005 |
| Jay Nfonoyim, MD | Critical Care | NYMC/ Mount Sinai | 1998 |
| Lucia Palladino, MD | Critical Care | George Washington U | 2010 |
| Dennis Bloomfield, MD | Clinical Research | Vanderbilt University | 1975 |
| Philip Otterbeck, MD Section Chief | Endocrinology | SUNY Downstate | 2012 |
| Lena Leykina, MD | Endocrinology | | |
| Seshadri Das, MD | Endocrinology | SUNY Downstate | 2010 |
| Sunil H Patel, MD Section Chief | Gastro-Enterology | UMDNJ | 1998 |
| Prasanna Wickremesinghe, MD | Gastro-Enterology | Maimonides H | 1977 |
| Sheriff Farag, MD | Gastro-Enterology | UMDNJ | 2000 |
| Deepak Vadada, MD | Gastro-Enterology | Lenox Hill H | 2012 |
| Keith Dahl, DO | Gastro-Enterology | Nassau University MC | 2012 |
| William M. Tursi, MD Section Chief | Geriatrics | Saint Barnabas H | 1981 |
| Shamin Salman, MD | Hematology/Oncology | Maimonides H | 1992 |
| Mahmoud Aly, MD Section Chief | Hematology/Oncology | UMDNJ | 1995 |
| Thomas Forlenza, MD | Hematology/Oncology | NYU/SUNY Downstate | 1983 |
| Ana Paula Oppenheimer, MD MPH | Infectious Diseases | NYMC/Wake Forest U | 2011 |
| Frank Scafuri, DO Section Chief | Infectious Diseases | Saint Vincent's Catholic MC | 2004 |
| Jessie Saverimuttu, MD | Infectious Diseases | Saint Vincent's Catholic MC | 2010 |
| Suzy Bibawy, MD Section Chief | Internal Medicine | Saint Vincent's Catholic MC | 1998 |
| Vikrant Pandian, MD | Internal Medicine | NYMC | 2013 |
| Lyudmila Rubinshteyn, MD | Internal Medicine | NYMC | 2010 |
| Sundee Naing, MD | Internal Medicine | NYMC | 2010 |
| Farhang Ebrahimi, MD Section Chief | Nephrology | Brookdale | 1998 |
| John Pepe, MD | Nephrology | Albert Einstein | 1980 |
| Allan Perel, MD Section Chief | Neurology | Columbia Presbiterian | 2006 |
| Keith Diaz, MD | Pulmonology, Critical Care | Stony Brook | 2011 |
| Peter Gotlieb, MD | Pulmonology, Critical Care | Beth Israel | 1998 |
| Philip Cosentino, MD Section Chief | Pulmonology, Critical Care | NYMC | 1994 |
| Peggy Garjian, MD Section Chief | Rheumathology | U Conn Hartford | 1988 |
Life After Residency (where do our residents go)
| | | | |
| --- | --- | --- | --- |
| Specialty | Institution | Location | Year |
| Cardiology | SUNY DownstateOchsner Health SystemAlbert Einstein PhiladelphiaSUNY DownstateSt Vincent Catholic Medical CenterSt Vincent Catholic Medical CenterUniversity of Iowa | Brooklyn, NYNO, LABrooklyn, NYNY, NYNY, NYNY, NYIowa City, IA | 2015201120012010200920082007 |
| | | | |
| Pulmonary and Critical Care Medicine | VermontMemorial Sloan Kettering Cancer CenterCook County HospitalLouisiana State UniversityMount Sinai School of MedicineStony Brook University Medical CenterMount Sinai School of Medicine | VermontNY, NYChicago, ILShreveport, LANY, NYStony Brook, NYNY, NY | 2015201120112008200820072007 |
| | | | |
| Hematology/Oncology | NYMC Westchester Medical CenterMaimonides Medical CenterNYMC Westchester Medical CenterNYMC Westchester Medical CenterNYUNYMC Westchester Medical CenterNational Institutes of HealthNYUBaylor College of MedicineNYMC Westchester Medical CenterNYMC Westchester Medical Center | Valhalla, NYBrooklyn, NYNY, NYNY, NYNY, NYValhalla, NYBethesda, MDNY, NYHouston, TXValhalla, NYValhalla, NY | 20152014201320122011201020092008200820082007 |
| | | | |
| Infectious Diseases | UC San FranciscoRutgers NJ School of MedicineUniversity of WisconsinWake Forest Baptist Medical Center | UC San FranciscoNew JerseyMadison, WIWinston Salem, NC | 2015201520112009 |
| | | | |
| Nephrology | Rutgers, NJ School of MedicineSUNY DownstateRichmond University Medical CenterHenry Ford Hospital, Detroit, MIAllegheny Medical CenterMetropolitan Hospital CenterJohn Hopkins UniversityNYMC, RUMCNYMC, RUMC | New JerseyBrooklyn, NYStaten Island, NYDetroit, MIPittsburg, PANY, NYBaltimore, MDSI, NYSI, NY | 201520152014201320112010200920092007 |
| | | | |
| Gastroenterology | Rutgers, NJ School of MedicineSUNY DownstateSt Vincent Medical Center | New JerseyBrooklyn, NYNY, NY | 201520092007 |
| | | | |
| Geriatrics | Staten Island University HospitalCornell University | SI, NYNY, NY | 2012?2008 |
| | | | |
| Endocrinology | Phoenix VA HCSUniversity of ArizonaUniversity of Kentucky | Phoenix, AZPhoenix, AZLouisville, KY | 201520082008 |
| | | | |
| Rheumatology | Robert Wood Johnson University Hospital | New Brunswick, NJ | 2007 |
| | | | |
| Hospitalist | Other CentersRUMCCoastal Medical ServicesSamaritan HospitalKimball Medical CenterNorthwest RegionalOther Centers | NJ, NV, NYStaten Island, NYSavannah, GATroy, NYLakewood, NJClarksdale, MSSI, Brooklyn, LI, NY, NJ, PA, VA, MD, ME, OH, NC, WI, CA, TX, PL, KY | 20152013201320132011201107-13 |
| | | | |
| Director of AUA and SGU* | RUMC | SI, NY | 2011 |