RUMC Access App
Download the RUMC Mobile App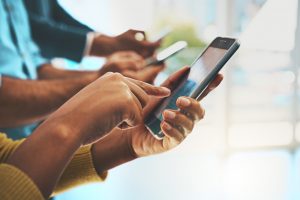 Reviewing lab results or medication instructions and accessing your healthcare providers should be easy. Now, with the RUMC mobile app, you can have the entire medical center in the palm of your hand. The app is called RUMC Access and is free to download and install on your smartphone or tablet. Get it today to find information for all your medical needs.
Features of the App
The app is designed to offer you a simple, convenient way to access information about your visit to Richmond University Medical Center. Whether you have an iPhone or Android, you can use the RUMC app virtually anywhere – whether you're at home, at work or on the go.
Some of the functions you can access with the app include:
Door-to-Doctor wait times for the Emergency Department
Log into your secure Patient Portal
Find a physician
View medical records
Pay your bill
See upcoming RUMC events
Find the closest RUMC location
Learn about the services we offer
Access our 24/7 emergency hotlines
Receive news and updates
Discover hours and contact information

Patient Portal
Once you log into the secure Patient Portal, you can do even more through the app. The portal allows you to review medical records, like radiology reports and lab results, as well as home medications, visit history and discharge information. You can also update your personal information. The portal is completely secure to protect your privacy and can only be accessed by you or authorized family members. Richmond University Medical Center is committed to giving you the secure healthcare tools you deserve.
Download Our Medical Services App Now
Take your healthcare into your own hands with Richmond University Medical Center's mobile app. It's available for download on both iOS and Android devices. To get the app, simply go to the App Store or Google Play. Questions? Contact RUMC by calling 844-934-CARE.