David Carles repeats as men's top finisher, Melissa Kraker takes women's title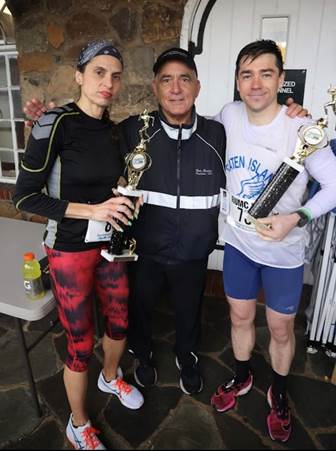 Over 100 individuals braved the rain and wind to take part in the 3rd annual RUMC/Arnold Obey 5K Run/Walk. Held at Clove Lakes Park on Saturday, April 1, those in attendance saw last year's men's winner, David Carles, defend his men's division title while the women's division title went to Melissa Kraker.
"My family and I are so honored that RUMC continues to keep my father's legacy alive through this event," Arnold Obey's daughter, Tonya Obey-McCombs, said. "This race is not only for remembrance of my father, but for a good cause. Many friendships were established with my dad at the park, along with running careers. He encouraged so many to go above and beyond their own expectations."
Carles finished with a time of 17:46.0, slightly behind his time from last year when he finished at 17:30.6. Kraker finished with a time of 19:54.2. Rounding out this year's top three winners, behind Carles in the men's division was David Michaels at 18:34.5 and Jeff Benjamin at 21:30.6. In the women's division, behind Kraker was Lauren Pitarresi at 21:22.0 and Ana Bermeo at 27:20.0. Prior to the race and walk, a Kids 50-Yard Fun Dash was held for children 10 years of age and under. Each child received a T-shirt and medal.
Proceeds from this year's event supported the critical services provided in RUMC's Level III Neonatal Intensive Care Unit (NICU), which specializes in the care of high-risk newborns, some weighing only one pound when born. For over five decades, RUMC's NICU has cared for more than 30,000 newborns.
As in year's past, members of the Obey family participated as runners and walkers. Part of this year's race route took runners past a tree planted in memory of Obey, a pillar of the Staten Island sports community and an avid runner who ran in 38 consecutive New York City Marathons. Obey passed away in 2020.
---
Richmond University Medical Center is a not-for-profit healthcare provider serving the ethnically diverse community of Staten Island and its neighbors. The medical center provides premier-quality patient care through a full spectrum of emergent, acute, primary, behavioral health and educational services. RUMC does this in an environment that promotes the highest satisfaction among patients, families, physicians and staff. For more information call 1-718-818-1234 or visit www.rumcsi.org. Follow us on Facebook, Instagram, LinkedIn, and Twitter.