National organizations continue to recognize the hospital's quality stroke care and treatment services
Richmond University Medical Center (RUMC) has received the American Heart Association's Get With The Guidelines – Stroke Gold Plus quality achievement award for its commitment to ensuring stroke patients receive the most appropriate treatment according to nationally recognized, research-based guidelines, ultimately leading to more lives saved and reduced disability. This year's award was accompanied by several additional stroke-related certifications awarded to RUMC, including its re-certification as an Advanced Primary Stroke Center, a designation RUMC has held since 2019. The certifications reflect RUMC's comprehensive stroke care services, including those provided in its new state of the art Emergency Department that opened in January 2023.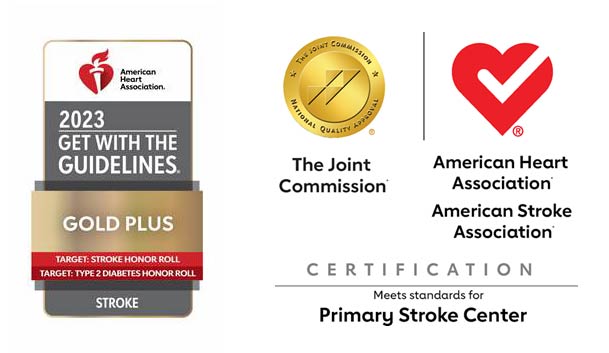 "These certifications and recognitions are wonderful," Allen Perel, MD, chief of neurology at RUMC, said. "It validates the tremendous work and preparation it takes to achieve these distinctions. We at RUMC are proud of the high quality of care given to people and their families who have a stroke. Treatment of stroke is an extremely high priority at RUMC since stroke is the number one cause of significant disability in the United States."
Stroke is the No. 5 cause of death and a leading cause of disability in the United States. A stroke occurs when a blood vessel carrying oxygen and nutrients to the brain becomes blocked either by a clot or bursts. When that happens, part of the brain cannot get the blood and oxygen it needs and brain cells die. Early stroke detection and treatment are key to improving survival, minimizing disability, and accelerating recovery times. RUMC cares for over 400 stroke patients a year.
Get With The Guidelines puts the expertise of the American Heart Association and American Stroke Association to work for hospitals nationwide, helping ensure patient care is aligned with the latest evidence- and research-based guidelines. Get With The Guidelines-Stroke is an in-hospital program for improving stroke care by promoting consistent adherence to these guidelines, which can minimize the long-term effects of a stroke and even prevent death. To earn the award, RUMC's physicians, nurses and medical personnel demonstrated how the hospital has committed to providing quality care for stroke patients. In addition to following treatment guidelines, Get With The Guidelines participants also educate patients to help them manage their health and recovery at home after they are discharged.
In addition to the Gold Plus quality achievement award, RUMC also received the American Heart Association's Target: Stroke Honor Roll award. To qualify for this additional recognition, RUMC met specific criteria that reduces the time between an eligible patient's arrival at the hospital and treatment with the clot-buster medication, alteplase.
RUMC also received the American Heart Association's Target: Type 2 Diabetes Honor Roll award. The Target: Type 2 Diabetes award recognizes RUMC for its specialized care of stroke patients with Type 2 diabetes, who are at higher risk for complications due to their diabetic condition. According to the American Stroke Association, a division of the American Heart Association, people with diabetes are twice as likely to have a stroke compared to people who do not. People with diabetes also tend to develop heart disease or have a stroke at an earlier age than people without diabetes. Every two minutes an American adult with diabetes is hospitalized for stroke.
The connection between diabetes and stroke is related to the way the body handles blood glucose to make energy. Food is broken down into glucose, giving a person energy. Glucose enters a person's bloodstream and travels to cells throughout the body after food is digested. For glucose to enter cells and provide energy, it needs a hormone produced by the pancreas called insulin. In people who have Type 1 diabetes, the pancreas does not make insulin. In people who have Type 2 diabetes, the pancreas makes too little insulin, or the body does not use insulin in the right way. As a result, people with untreated diabetes accumulate too much glucose in their blood. Excessive blood glucose built up over time may result in increased fat deposits or clots in blood vessels.
"Diabetes is a prevalent condition and a potent risk factor for strokes," RUMC's Chair of Medicine and Chief of Endocrinology, Philip Otterbeck, MD, said. "We are pleased that our award recognizes the meticulous attention we pay to all our patients who suffer a stroke, but especially for those with concomitant diabetes. Our diabetes specialists work as important members of a multidisciplinary team to ensure patients recover from their strokes as quickly as possible."
RUMC also met specific guidelines to once again be designated as an Advanced Primary Stroke Center, a designation awarded collaboratively by the American Heart Association, American Stroke Association, and The Joint Commission. To earn this distinction, which RUMC has held since 2019, the hospital provided evidence of its comprehensive capabilities to quickly diagnosis and treat stroke patients admitted to the emergency department. RUMC underwent an unannounced onsite review, during which a team of Joint Commission reviewers evaluated compliance with stroke-related standards established by the Commission. Joint Commission standards are developed in consultation with health care experts and providers, measurement experts and patients. The reviewers also conducted onsite observations and interviews.
"Our stroke specialists continue to earn high praise from the American Heart Association, American Stroke Association and The Joint Commission year after year," RUMC President and Chief Executive Officer Daniel J. Messina, PhD, FACHE, said. "As such a designation implies, being an Advanced Primary Stroke Center means our hospital is home to state of the art medical technology and that we are blessed to have a skilled medical staff who have extensive experience in providing comprehensive care to patients suffering from strokes of all severities. From the minute an ambulance arrives at RUMC to providing post-stroke care at home after discharge, our hospital is with our patients every step of the way and that commitment to care will never change."
Earlier this year, RUMC opened is new James P. Molinaro Emergency Department. More than double the size of the hospital's previous Emergency Department, the new unit has expanded trauma and urgent care areas as well as the latest technology and equipment to quickly treat stroke patients. Later this year, RUMC will open its new 40,000 sq. ft. Surgical Department, located directly above the Emergency Department. The location of the Surgical Department will allow critical stroke patients to be quickly moved between floors by connecting elevators. Once there they can be immediately prepared to undergo emergency surgical intervention in one of 10 new operating suites. Among the procedures that can be performed if needed is a mechanical thrombectomy, which involves the removal of a blood clot by a net like device that is threaded to the site of the blockage through a blood vessel. RUMC has been performing this life-saving, minimally invasive procedure since 2019.
"The Advanced Primary Stoke Center certification recognizes health care organizations committed to fostering continuous improvement in patient safety and quality of care," said Deborah Ryan, MS, RN, interim executive vice president, Accreditation and Certification Operations, The Joint Commission. "We commend Richmond University Medical Center for using certification to reduce variation in its clinical processes and to strengthen its program structure and management framework for stroke patients."
---
Richmond University Medical Center (RUMC) is a not-for-profit healthcare provider serving the ethnically diverse community of Staten Island and its neighbors. We provide premier-quality patient care through a full spectrum of emergent, acute, primary, behavioral health and educational services. We do this in an environment that promotes the highest satisfaction among patients, families, physicians and staff. For more information call 1-718-818-1234 or visit www.rumcsi.org. Follow us on Facebook, Instagram, LinkedIn, and Twitter.