Vital Emergency Care Campaign
What is Vital?
Richmond University Medical Center has steadfastly provided health care in the Staten Island community for more than 100 years. As the community's only hospital located outside of a flood zone, RUMC is essential for residents island-wide. However, we have reached a critical stage where our aging infrastructure cannot meet current and projected health care demands, especially with the fast-tracked revitalization of the borough's North Shore.
One in three residents in our community is affected by a lack of health care. The Medical Center serves the borough's only designated Medically Underserved Area, complicated by financial, linguistic, and cultural barriers to care. Staten Island's rates of chronic disease and mortality are among the highest citywide, driving the need for care.
Immediate access to care is not a luxury. It is a necessity—particularly for emergency services.
While RUMC's level of care is exemplary, the emergency room and patient areas are outdated in size and technology.
Through Vital: Our Campaign to Transform Emergency Care, you can help us open the door to the level of care our community needs.
Brick Campaign
The Richmond University Medical Center Foundation is pleased to announce a Brick Fundraising Campaign! This is a unique opportunity for the community to show their support of our new Emergency Department by purchasing a personalized, engraved brick that will be placed outside the entrance. Not only will you be able to help us in "Paving the Way to the Future of Staten Island Healthcare", but you can leave a permanent family or company legacy in our community.
Bricks are $500.00 each
For more information on purchasing a brick, please visit https://www.rumcvital.com/
Naming Opportunities
In addition to the satisfaction that comes from helping transform emergency care on Staten Island, donors have the option of naming areas within the Emergency Department after themselves or loved ones. Naming gifts generally range from $10,000 to $1.5 million for spaces and buildings. If one of these interests you, contact Laura Gajda at (718)-818-2103.
| | | |
| --- | --- | --- |
| Giving | Donor Recognition Area | Availability |
| $1,500,000 | Lobby | Reserved |
| $1,000,000 | Family Waiting Area | Reserved |
| $1,000,000 | Pediatric Emergency Care Wing | |
| $1,000,000 | Results Waiting Area | |
| $500,000 | Observation Unit | |
| $250,000 | Urgi-Care | Reserved |
| $250,000 | Triage Area (2) | 1 Reserved |
| $250,000 | Imaging Services | |
| $250,000 | Cardiac Critical Care Unit | Reserved |
| $100,000 | Trauma Bays (3) | 1 Reserved |
| $100,000 | Discharge Waiting Area | Reserved |
| $100,000 | Nurses' Stations (6) | Pediatrics Reserved |
| $100,000 | Intake Area | Reserved |
| $100,000 | Security Desk | |
| $100,000 | Paramedic/EMT Lounge | |
| $100,000 | Awning/Overhang (top of building) | Reserved |
| $100,000 | Entrance Vestibule | Reserved |
| $75,000 | Ambulance Entrance | Reserved |
| $75,000 | Safe Haven Facility | Reserved |
| $75,000 | Sexual Assault Interview Room | Reserved |
| $75,000 | Bariatric Treatment Room | |
| $75,000 | Awning/Overhang (Smaller-2) | Reserved |
| $50,000 | Bereavement Room | Reserved |
| $50,000 | ED Trauma Patient Room (2) | Reserved |
| $50,000 | Stroke Area | Reserved |
| $50,000 | Women's Services | Reserved |
| $50,000 | Medication Stations | |
| $50,000 | Physician Documentation Station | Reserved |
| $50,000 | Patient Discharge | Reserved |
| $50,000 | Quiet Area | Reserved |
| $50,000 | Orthopedic Casting Rooms (2) | |
| $25,000 | Patient Rooms (49) | Several Reserved |
| $25,000 | Computer Documentation Carts | |
| $25,000 | Patient Monitors | |
| $25,000 | Sculpture & Reflections Garden | Several Reserved |
| $25,000 | Hallway Gallery Art | Several Reserved |
| $25,000 | Custom Waiting Room Mural | Reserved |
| $10,000 | Healing Garden | Reserved |
| $10,000 | Outdoor Benches (approximately 4) | Several Reserved |
| $10,000 | Fountain | Reserved |
Donor Recognition
Level 1- $1,000,000+
Pin Mounted Naming Letters and Large Plaque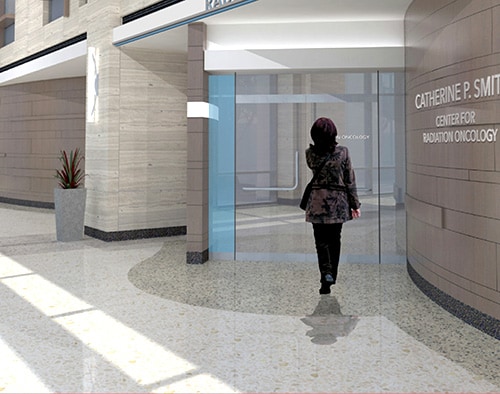 Level 2- $100,000-$999,999 – Large Plaque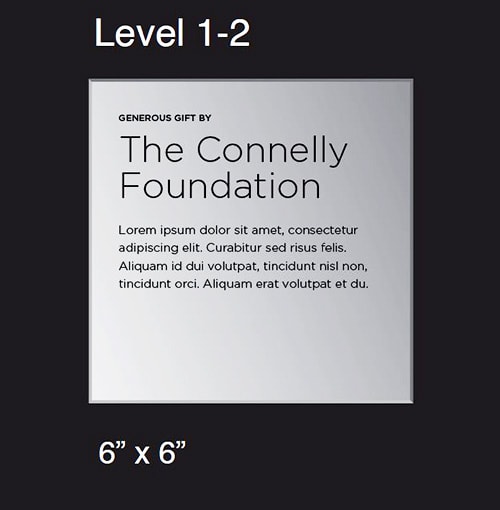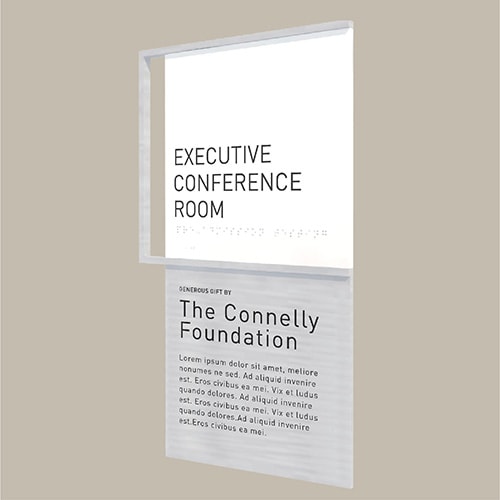 Level 3- $50,000-$99,999 – Medium Plaque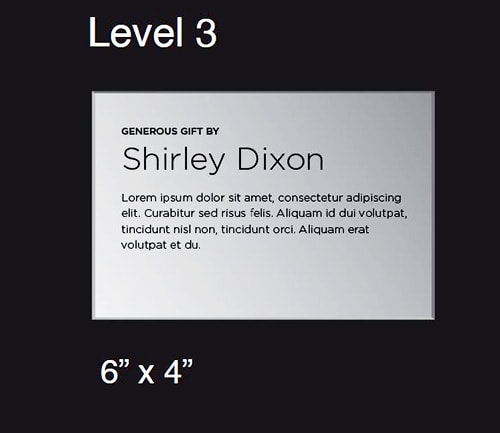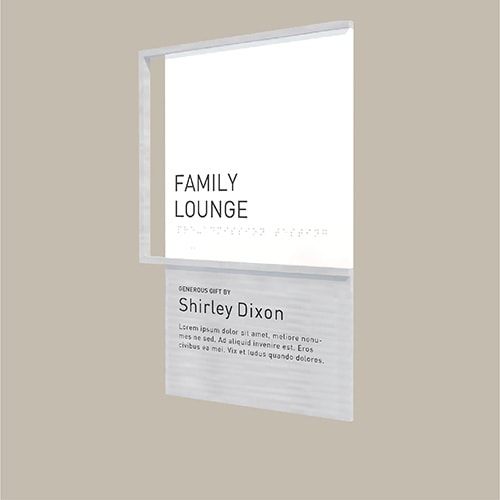 Level 4- $10,000-$49,999 – Small Plaque